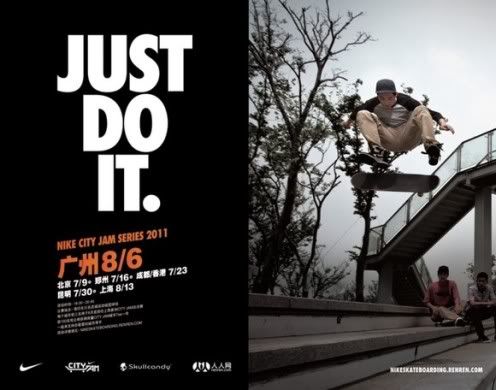 NIKE CITY JAM SERIES 2011 Skate Tour into the race in August, Saturday August 6 will be arriving in Guangzhou (currently the 6th round)! Unleash your passion, generous time to skate, this Saturday be there or be square.
Venue : Haiyin Dongchuan sport city basketball court
Date: 6th August 2011
Registration:
1 store registration:
HERO Guangzhou Yuexiu District No. 18 more games to King West Plaza 1063 137-11669-2520
Kapok GZ Guangzhou East than the market Shop 139-2602-3384 15 -4
2 -site registration:
14:00 ~ 18:30 on race day to register at the city venue registration, fill out the registration form as requested, the player ID card to registration desk to report, collect admission card numbers game.
3 Online Registration Form:
Click the following link:
Download the application form, fill out the day after the completion of the specified period of time to report back to the scene reported that around, collect admission card numbers game.
For more details, please click on line activities :
Here's a footage part of previous series on 23rd July 2011 in Hong Kong and 9th July in Beijing
Nike City Jam Series – Hong Kong 23 July 2011 from Warren Stuart on Vimeo.